Looking to build an app that delivers results? Let's get started. We're based in the heart of Birmingham, West Midlands.
We're an established team of UK-based bespoke software and app developers that delivers innovative digital ecosystems.
We offer a consultative, step-by-step approach that delivers useful software early and often. By focusing on functionality first, our projects are cost-effective and sustainable, yielding a faster return on investment.
5+ digital integrations
per cloud-based project
600% growth
for digitally transformed SMBs
Up to 8x productivity
increase for a digitised process
So, what do we do?
It's simple. We provide software development services that work for small-medium businesses. Our combined experience and creative mindsets enable us to build innovative software solutions that supercharge operations and processes.
Enhance your operations or processes
Augment your business with digital transformation; solve complex problems with automated apps and digital processes that leverage the Internet of Things and increase productivity and revenue.
Bespoke software product development
Build a cloud-based app or Software as a Service platform that powers your value propositions and reaches customers online.
Develop a custom web or mobile app
Iteratively develop your MVP software to get the right 'fit' by capturing early adopters' feedback and closing the feedback loop.
Reimagine legacy business software
Revolutionise your existing software systems -- take advantage of modern technologies to future-proof your business and maintain or improve your competitive edge.
What our clients say
Since 2013, we've been partnering with organisations to develop bespoke software that stands the test of time. From bootstrapping funded startups, to business-wide digital transformation projects, we've never failed to deliver.
"Contracting Codevate has been and remains one of the best experiences I have had in 25 years of business and I am so looking forward to progressing with them going forward."
– Matthew Brereton
"Codevate was the only company who 'got' our idea. We've worked with them to incrementally digitise most of our business processes -- their iterative process was ideal for us."
– Robin Conway, Managing Director, ARCC Communications
"The efficiency tool that Codevate has developed for us has already proved to be beneficial and has led to a reduction in time of extrapolating data down to hours rather than days."
– Daniel Bent, PJA
"Codevate's consultative style and knowledge make the relationship feel more like a partnership than a typical transactional customer/supplier engagement."
– Andrew Whitehurst, Director, inspiremymeal.com
"I've been really impressed with not only Codevate's professionalism but also how hard working they are, it's great to see and gives me real confidence."
– Jack Knowles, CEO, Relevant Mix
"Codevate work fast, innovate and are good at solving problems. Plus, they're always easy to deal with."
– Lord Ralph Lucas, Director, GCG Aviator
"Codevate do it right (not just quickly). The team are extremely knowledgeable and understand that their clients may not be. I'd absolutely recommend them."
– Jeremy Green, Director, Donape
"The prototype is exactly what I needed. It's just what I imagined and I can't wait to show it to investors."
– Leigh Purnell, CEO, Petalite
Energise your business with custom software
We can integrate seamlessly with your organisation and its key stakeholders. Here are some ways we can add value:
Generate and test new ideas

Build a proof of concept

Launch a new app or tech business
Work smarter

Optimise existing processes

Connect disparate systems
Research and develop

Digitally transform your business
Tried and tested tech
We believe in selecting the right tool for the job - building software is no different. Using both long-established and cutting-edge software tools enables us to create intelligent and innovative solutions that deliver a solid competitive advantage.







Case study: Map-based bus route data exporter
Back in 2017, we were approached by an organisation that provides route solutions for public transport services on a national scale. They wanted to digitise a particular stage in their workflow that was becoming a timesink.
We decided that the new system should allow the client to easily mark out an area of operation, pull all bus route information for that area, then export the data in spreadsheet format.
With the new tool at their disposal, our client have reported completing the work up to eight times faster than ever before.
Case study: Remote worker check-in and automated safeguarding tool
As part of a large-scale multi-year project, we developed a system for safeguarding lone workers by leveraging automated voice calls for routine check-ins to verify their wellbeing. In the event of an accident, an automatic emergency conference call is created to ascertain the worker's situation and send help.
Our bespoke technology and scalable cloud infrastructure has given the organisation peace of mind when it comes to safeguarding their remote staff. The system resulted in massive cost savings and eliminating blockers to growth.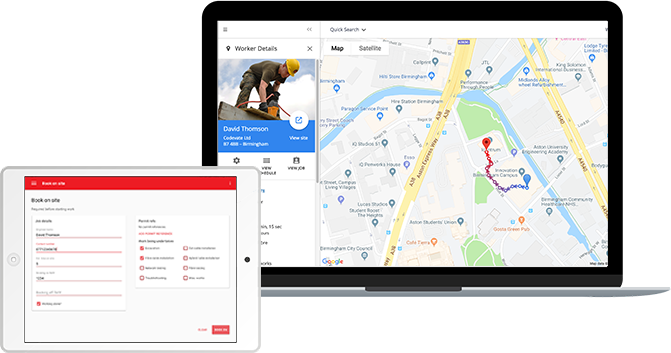 Case study: Cloud-based resource planning with calendar sync
Back in 2014, we were approached by a national telecoms provider with a multi-million pound turnover. Thanks to their recent success, they were preparing to scale up even further, and needed to concentrate various paper and excel-based processes into a bespoke cloud-hosted system.
Thanks to the software we built for them, they have been able to comfortably manage a much larger workforce, take on more projects and massively increase revenue.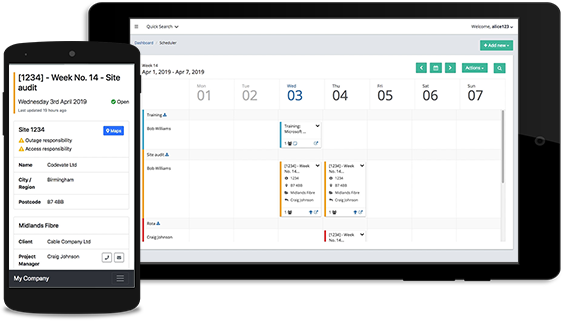 Get started
Let's see how we can make software work for you.
Let's see how we can make software work for you.
Get started