We're specialist
bespoke mobile app developers

for iOS and Android

We've been developing bespoke mobile apps for companies throughout the UK since 2013. All from our HQ in Birmingham, West Midlands.
"Codevate built us a bespoke mobile app and

the results have been seriously impressive

! High quality and fast iteration work that very few companies can do."
We would have
no hesitation in recommending Codevate
if you're looking for a professional yet personal web and app developer.
We can develop any bespoke mobile app for your business
For us, the best mobile app developers are the most experienced, and we've developed bespoke apps for dozens of industries. We're an experienced team of developers that thrive on complex projects.
From Uber-rivalling ride-hailing apps to full-blown business transformation. We've been delivering native and cross-platform apps for iOS and Android for over half a decade.
If you're looking for a UK app developer to help you drive revenue and scale your business, drop us a line.
Get the best mobile app development quote for your business
A quote from a top app developer considers your business goals and objectives, as well as developing the app. Our quotes align the technical details with your business to deliver high-impact features cost-effectively.
If your app idea is complex, your project could benefit from upfront consultancy or prototyping. These services can help you lower the initial cost of developing your app.
For example, we can pinpoint and refine key features by developing:
A functional prototype that tests one feature or idea with your users; or
A design prototype that maps out the user experience (UX or "flow") of your mobile app.
Developing a prototype for your app can help you plot a clear course for the next phases of development.
We'll be happy to talk you through the options during a free initial consultation.
Or give us a call now on 0330 120 1408.
Why you should get in touch
Native iOS and Android app development
Cross-platform mobile app development
Experienced senior developers
Complimentary project scoping call
Free video call with an expert
Get a high-level no obligation quote
Maintenance retainers available
Featured work
Cloud-based health and safety auditing app
This app development project delivered a modern approach for our client's remote auditing and file uploads. We rebuilt their legacy mobile app to create an intuitive interface that added offline functionality, giving their customers a seamless user experience.
Full "offline mode" capability
Cross-platform app that targets iOS and Android
Flexible forms managed via the web
Sleek, modern interface and user experience

"We look forward to having the

class-leading app solution

that I believe Codevate are in the midst of creating."





- Tom Baverstock, Southalls (Health & Safety)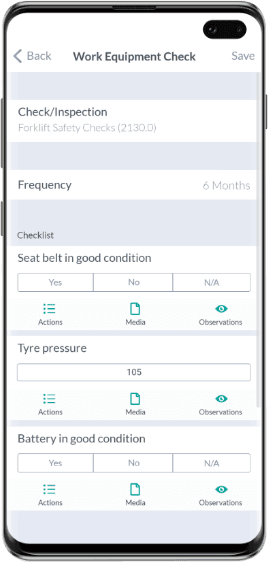 We've been developing bespoke mobile apps since 2013.
Want to develop a bespoke app with location & GPS functionality?
We're experts when it comes to developing bespoke mobile apps with GPS-based features. Location-based search, vehicle/worker GPS, or map visualisations can come in handy.
Taking payments? We work with in-app purchases and other payment giants.
We develop custom mobile apps that help you accept secure mobile payments and boost revenue. We do this with in-app purchases, and integrating with industry giants like Stripe or PayPal.
Bespoke mobile apps can capture photos, videos & upload data remotely.
We've developed apps that utilise mobile data effectively, uploading photos and videos of hazards and PPE, social media posts, and even work documents with customer signatures.
Fast track your mobile app development with us
"Codevate was the only company who 'got' our idea.

We've worked with them to incrementally digitise most of our business processes with custom software.

"





- Robin Conway, CEO, Telecoms Industry
Free 30 minute scoping call
Face-to-face consultation included
At-a-glance feasibility analysis
Complementary high-level proposal
Develop my mobile app now
Fast track your bespoke mobile app with us
"Codevate was the only company who 'got' our idea.

We've worked with them to incrementally digitise most of our business processes with custom software.

"





- Robin Conway, CEO
Free 30 minute scoping call
Face-to-face consultation included
At-a-glance feasibility analysis
Complementary high-level proposal
Develop my mobile app now
Fast track your bespoke mobile app with us
Free 30 minute scoping call
Face-to-face consultation included
At-a-glance feasibility analysis
Complementary high-level proposal
Develop my mobile app now
We specialise in long-term and complex mobile app development projects




Our expertise spans single and dual native app development (iOS and Android), as well as bespoke cross-platform app development.
Native apps for iOS and Android
We've been developing native mobile apps for iPhones and Android devices since 2013. We're happy to build single or dual platform solutions, and often integrate our apps with bespoke cloud-based systems.
Cross-platform app development
With technologies like React Native innovating in the mobile app space, we can build cross-platform applications and deliver bespoke apps for both iOS and Android in one fell swoop.
Retain your competitive edge
We offer both continuous innovation and maintenance retainers to ensure your app stays up-to-date, secure, and future-proofed.
Contact us to learn more
Got a bespoke mobile app idea?
Feel free to get in touch via phone, email or send us a message. We're always happy to hear from you.
Frequently asked questions
Looking to develop a bespoke mobile app but want to know more? Take a look at our FAQs below.
Feel free to send us a message about more project-specific questions.
Yes. Our HQ is in Birmingham City Centre, meaning that most of our mobile app developers are in the West Midlands.

Remote working means our app developers can work from anywhere in the UK.

It can vary depending on the number of features and their complexity. You may also need other software to be developed alongside your mobile application.

For example, you may want to develop a mobile app for both iOS and Android, and then a web app to manage your platform. (Think managing content, user accounts, and other data).

Some features are simple, like taking free-text notes. Others can involve working with multiple third parties. Like using Google or Stripe to work out the price of a taxi ride between two addresses.

You can learn more on our blog:

- How to get your money's worth in your app development quote

- Is a fixed price quote right for your software project?

Does your app need to be on multiple platforms? Or do you need to develop more than one mobile app? If so, it may be wise to use a cross-platform technology like React Native.

You should also take hosting and maintenance costs into consideration.

Absolutely. We're happy to sign NDAs to protect trade secrets and app development ideas.

Aside from being fully UK-based, we only recruit senior app developers.

Other companies may have UK offices, but their app development team could be offshore. Offshore developers come with their own obstacles, like time zone and language barriers. Different legal jurisdictions can make transferring or protecting your intellectual property difficult too.

Since 2013 we have upheld a 100% project completion rate. This is much higher than the reported industry standard of approximately 25%. We maintain this by being meticulous at the app specification stage.

Our core aim is to develop and maintain large-scale mobile apps for long-term clients.

One of our most successful projects is an Android app that has been maintained for the last 7+ years. Our client runs its main business activities through the software. This app works alongside a bespoke web app that we developed with them.

Another project required us to develop four native mobile apps. Two for iOS, and two for Android. These custom apps integrated with three other web-based apps that our team developed.

You can find out more by requesting a demo of these projects.

Our app development team is multidisciplinary, and we strive to be "platform agnostic". This allows us to select the right tool for the job (an important part of our core beliefs).

For native mobile app development, we use Swift for iOS, and Kotlin for Android. For cross-platform app development we use React Native.

Yes. We use React Native to develop cross-platform mobile apps that work on both iOS and Android phones.

We have used other platforms, but React Native has been our top choice for cross-platform app development for years.