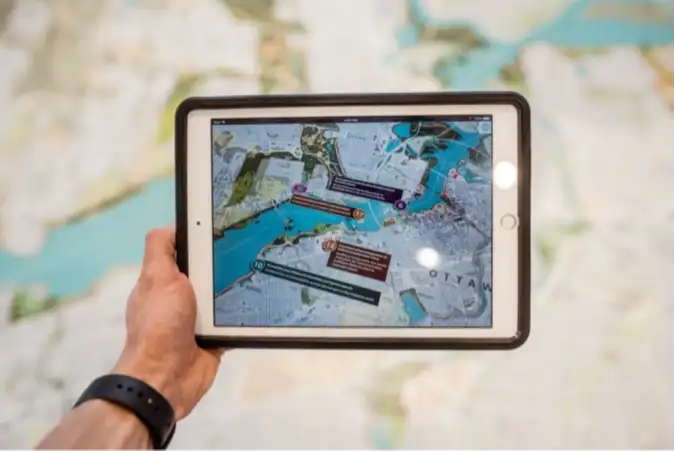 With 5G opening up so many technological possibilities, now is a great time to explore how bespoke software could impact your business. Whatever your line of work, there's bound to be some way you can innovate with interconnected tech.
Sometimes, it takes a little bit of inspiration to come up with that new software idea that will move you to the forefront of your industry. One of the more versatile bits of tech that we often work with is GPS functionality.
In this blog, I'm going to offer up some ideas on how GPS could be used. I'm also going to give a few examples of industries that might benefit from it. To build on that, I'm going to suggest a few other features that could be coupled with those implementations for maximum productivity.
If I touch on a feature idea that would be useful for your project, you can like/share that bit with your team. If I don't, let me know in the comments and we'll talk about how GPS could work for you.
Let's crack on.
---
App store overview

In the public domain, right now, you'll find hundreds of apps and software that harness GPS and location services to better deliver their service.
A lot of social media and entertainment apps ask their users to 'check-in', and some even use GPS in their core features – Pokemon Go, for example. Some fitness apps, like Strava or Fitbit, leverage the technology to gamify personal improvement by showing lap-times of nearby users and suggest running partners.
Moving away from social media, the ride-hailing space was once dominated by Uber. More recently, it has seen an influx of new competitors (such as xooox) that all use GPS to deliver their service. Uber themselves have diversified their GPS-based services now with Uber Eats, moving into competition with the likes of Deliveroo.
In another direction again, a lot of national courier services, like Yodel or Hermes, have started using GPS to track their drivers. Their customers are now seeing the benefit of transparent parcel tracking and a more reliable service.
Whatever space you look in, you'll see big players leveraging GPS and location services to complement their services. In some cases, you'll see entire business models that are only possible through GPS.
---
From a technical perspective
Before I jump into the real-world applications of GPS functionality, I'd like to share a few ideas of how it can be harnessed. Full disclaimer: this isn't an exhaustive list. If you've got a software idea that pioneers with GPS, you can contact us here.
1. Check-ins, location services, and connecting users
One of the more common uses for GPS is to share visibility of the user's physical location. Typically, this is done by accessing a mobile device's location, though more niche use cases could use external hardware, like in-built trackers in vehicles or tags on endangered animals.
Who the location is shared with exactly, is dependent on the software's purpose. In social media, locations could be shared between nearby users. On-demand services might share consumers' locations with the service providers. If the app is for a business's internal use, locations could all be fed back to a managing team in HQ.
2. Route plotting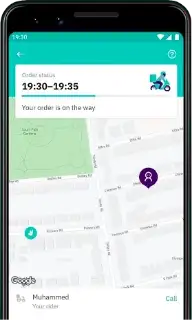 If your software collects information on more than one location there are third-party integrations, like Google Maps, available to plot routes between them.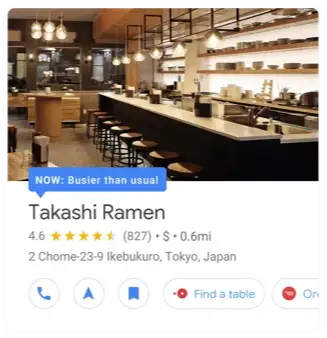 Again, a route plotting feature could be utilised in many ways. You could find the quickest route from one user to another, or offer the fastest routes to specific places of interest using Google's Places API. You might benefit from daisy-chaining locations together and finding the quickest way around a collection of stops.
You could take this even further by importing real-time traffic data, giving accurate ETAs as well as route distances.
3. Data collection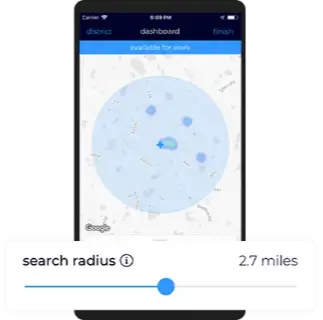 If your software idea involves a large amount of location data, it's also worth considering the ways of sorting and filtering. If you're interested in users near to a point of interest, a search radius can be useful. Also, with it being a common feature on ride-hailing services and social networking apps like Bumble or Tinder, it's a nice intuitive feature for new users to jump into.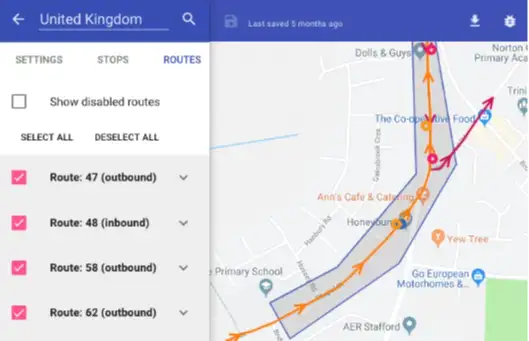 Maybe your line of work is more complex, and a search radius wouldn't suffice. Instead, a polygon plotting tool could prove useful. Essentially, this would be a map that allows users to outline an area by hand and view the data that is within that catchment area.
4. Geofencing
A somewhat less common use of GPS which has a lot of potential is geofencing. This is when a virtual perimeter is set up around a real-world location, that communicates with devices in and around the area.
This solution is most efficient when working with a larger region. If the area of interest is the vicinity of a single location or user, a radius would be more appropriate.
You could use this technology to trigger a notification when a user is near to, or crosses over, a boundary line. It can be useful for managing automated processes - a matchmaking system for a ride-hailing platform around airports, for example. You can also use it to gather data from the population inside of the geofenced region.
With 5G, as we have millimetre accuracy, this could be done per-room inside a building like a shopping centre. The building could have a companion app, where customers are shown each shop's news and offers come as they walk in.
---
Applications in business
Now that I've covered some of the means of application for GPS functionality, here are a few practical uses for the technology. As always, there's a lot more that could be done than these ideas. Consider the following as food for thought!
1. Social media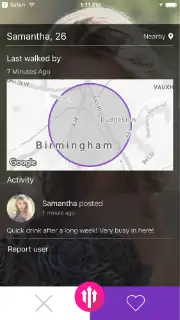 Starting with a relatively common application, location services can complement a social media app. With a somewhat saturated market for social media apps, it'll be important to find an unreached demographic, and deliver value with your USPs.
For example, you could create an app targeting hikers or rock climbers, with polygon plotting for a user to mark out their favourite places to explore. They could then connect with other users based on mutual 'favourite spots'.
Taking this idea a step further, the app could include an in-app payment system. Keep users coming back by letting them find and sign up for running events near their marked spots.
Check out our mobile app development page for more on how we could make this type of software a reality.
2. Safeguarding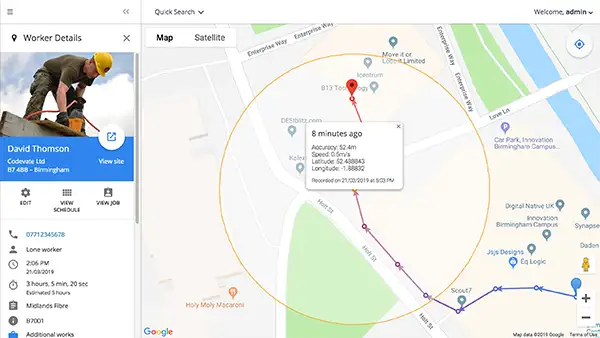 In a lot of industries, scaling-up your business tends to mean expanding your area of operation. In turn, that can mean sending your team members to work further afield.
If that is the case, GPS can help as an additional measure to keep your team safe while they work.
Depending on your line of work and its requirements, you might benefit from geofencing remote, 'elevated-risk' areas of operation. These fences could be used to initiate automated safeguarding measures when your team enters them, and deactivate them when they are clear of the zone.
For more information on how we can digitally transform a business's safeguarding arrangements, head over to our bespoke software development page.
3. Fleet management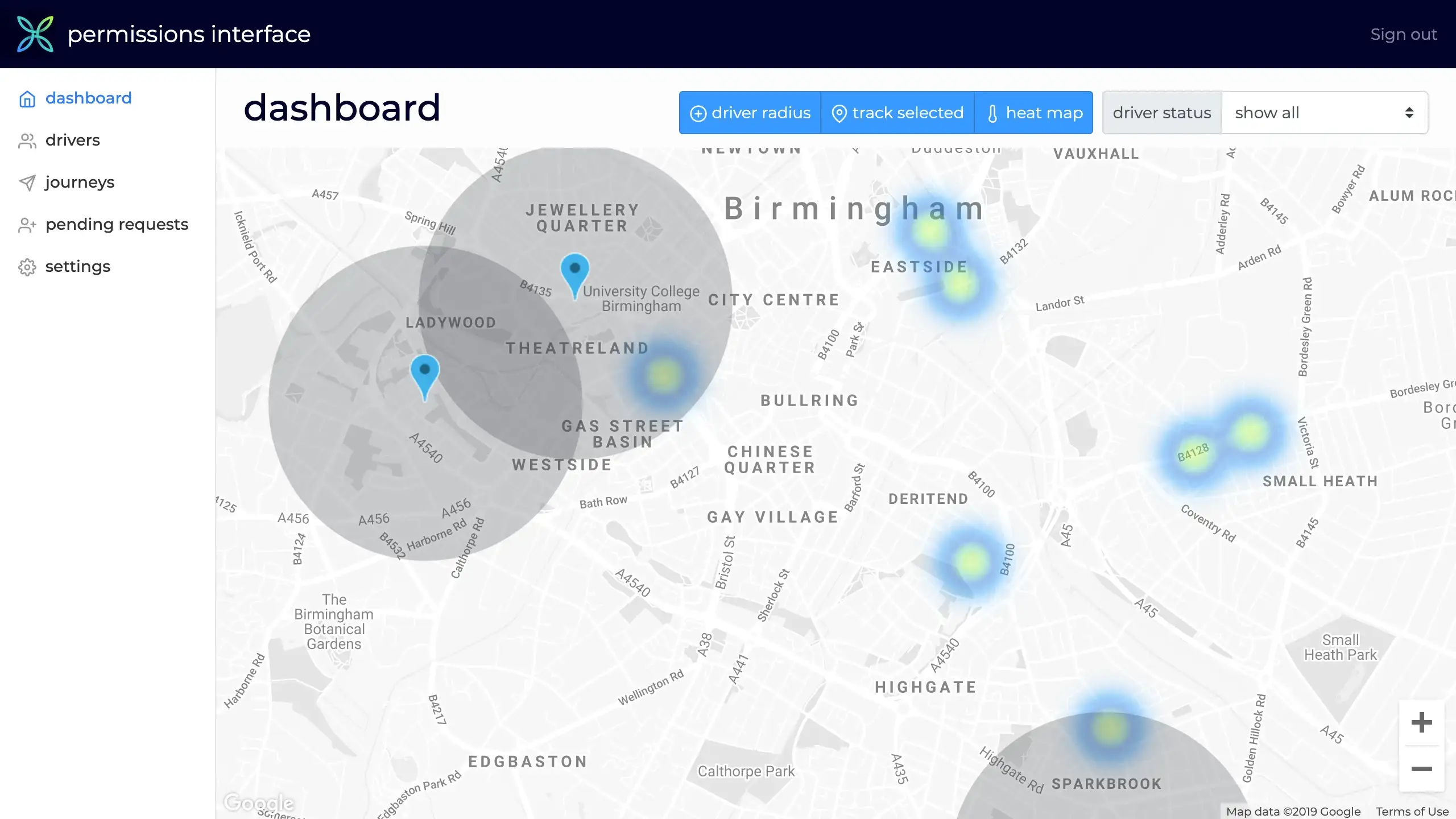 In a similar vein to safeguarding, GPS locations for a fleet of vehicles could also be fed back to a central operator. Vehicle locations can then be displayed in real-time as pins on a map, making it much easier to organise and direct the fleet to fit daily demand.
Maybe you want a dashboard displaying more than just vehicle locations. If the vehicles are particularly high-value, they could be fitted with hardware monitors to track the vehicle's health in a full early warning and diagnostics system.
Whether you want to monitor tyre pressure for heavy freight or structural integrity on a high-security transporter, if you can provide bluetooth or WiFi enabled OBD keys, a development team can build the software.
We deliver a lot of software to streamline operations like this. Exlore our work to learn more.
4. Service hailing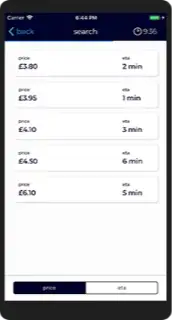 This kind of app format is commonly seen in ride-hailing and delivery services; a user creates an account, enters their postcode and orders food or a taxi to their location with one click. Then using a radius from the driver's location for computational efficiency, the user would be notified when they are nearby.
The same model could be applied to all kinds of services, consumer-facing and B2B alike. From private security, to 'find-a-barber' beauty and cosmetics, or even a 'man-with-a-van' service – a mobile app would help you offer a unique service to a larger audience.
You could run a service like this parallel to your everyday operation. For example, the app could be subscription-based, retaining customers by delivering your service on-demand whilst giving you a second, steady income feed.
Integrating your GPS-powered app with social media for better exposure to your target audience. It would also double as a means of collecting insightful feedback paired with a physical location to improve your service.
If you're planning on adding a supplemental service to your everyday business, we'd recommend starting off with a Lean prototype. Check out our MVP software development page for more guidance.
5. Environmental and conservation work
GPS functionality can be especially useful in environmental and conservational efforts. In urban areas, geofencing could be used to mark out clean air zones as part of a system for managing regional carbon emissions. Rather than replacing ANPR for detecting vehicles who have already entered your clean air zone, GPS could give drivers a warning before they do enter, or before they leave if they have to pay per-entry rather than per-day.
In rural areas, wildlife reserves could be outlined to monitor the behaviour of endangered species. If an area has been set aside to be used for reforestation, geofenced perimeters could be used to set boundaries for autonomous seed-planting drones.
6. Public health
At the time of writing this post, the world is on lockdown due to COVID-19. Once restrictions are lifted, GPS could be used in preventative measures. By showing people when and where populations are denser, you can help them practice more effective social distancing.
By sharing their locations, you could identify when your users have been in proximity to somebody with coronavirus, and encourage them to self-isolate.
Asking your users to report if they have tested positive for (or are showing symptoms for) COVID-19 will require careful and correct handling of the sensitive information. We can offer guidance on best practices for security - see our software consultancy and support page for more information.
In hospitals, 5G location services coupled with an altimeter could be used to map patient information to an ICU ward, with millimetre accuracy. Hospital staff would have rapid bedside access to medical files, to deliver more efficient care, even when the patients aren't able to communicate with them.
---
To conclude, I want to reiterate that all the use cases I've mentioned here are suggestions. The reality is that GPS functionality could be useful in any space, with the right application.
You might have an idea that uses GPS to break new ground in an industry. Maybe you need a custom mobile app with GPS-enabled features. The best way forward is to get in touch with a software consultant.
If you'd like to speak to us, we'd be more than happy to help you with a free at-a-glance feasibility check.
Personally, I find the concept of geofenced agricultural sites, entirely maintained by drone fleets really exciting. I'd love to know, what industries do you think would benefit from GPS functionality in the future?