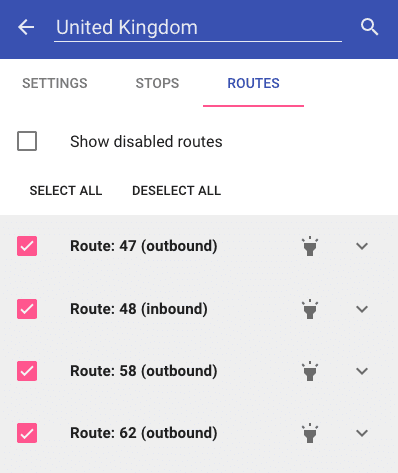 Area of Operation Plotting and Pruning
By hosting a number of discovery workshops and discussions on the nature of their work, we found that their use case required a more sophisticated solution than a simple postcode lookup.
Because their work revolved around disruptions to standard traffic — roadworks and closures, for instance — that weren't necessarily confined to a particular postcode, a bespoke map-based selection tool was more appropriate for their requirements.
The resultant solution lets users click to draw polygonal areas of operation on a map, making selecting the area they are interested in a simple, visual top-down process. Once submitted, all route data inside the area is complied. By drawing a polygon, they were able to accurately outline the affected area.
The user can then prune the data before exporting it to Excel by unmarking checkboxes on both each stop individually and on routes as a whole, making it easy to remove data they aren't interested in, saving on time and reducing errors. When the user is happy that all valuable data has been selected, the data can be exported on a single click.