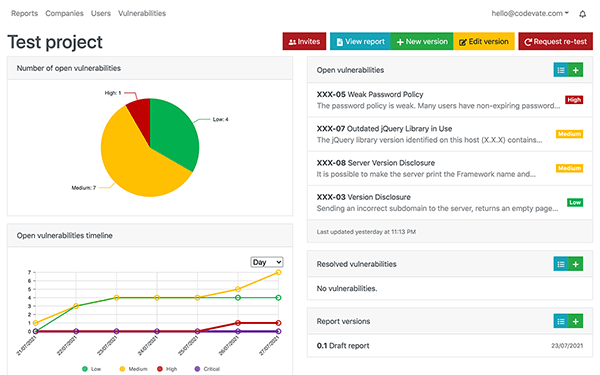 Audit overview dashboard
A security audit can contain a great deal of information. Having a quick at-a-glance summary of the current state of the audit is crucial for everyone involved, allowing for decisions to be made and actions to be taken more quickly, closing the feedback loop. Allowing a customer to remedy a security vulnerability as soon as possible is of particular importance, reducing the risk of damages.
The dashboard features charts that break down the number of unresolved security vulnerabilities discovered by their severity, both as a total and a breakdown over time - which can be used to aid performance metrics. Also shown are short lists of vulnerabilities by their current status (open/resolved) with short summaries for context. This quickly shows the customer what actions they need to take.